Browse Our Best Wood Look Tile in Lexington Park, MD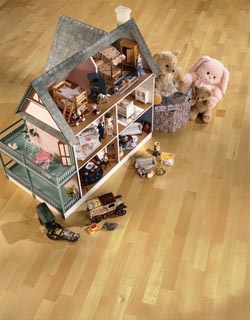 At Griffin's Flooring America, we pride ourselves on being the partner that local homeowners can trust when they shop for wood look tile in Lexington Park, MD. Offering a diverse collection of distinctive products to choose from, we can help you tailor your floors to your unique vision—and take advantage of one of the industry's most classic looks without its traditional need for placement and maintenance concerns.
What makes tile such a valuable option? Our products feature grouted wood grain surfaces that effectively emulate natural hardwood and craft refined style while being easy to upkeep, tough under pressure, and water resistant. In your home, that means getting the wood look you want without restrictions when you purchase our wood plank ceramic tile or one of its porcelain counterparts.
Porcelain or Ceramic: How to Choose
One question many homeowners have upon discovering wood-emulating tile is how they ought to choose between its two main variants. While the right product is different between buyers, there are a few basic differences that you can consider when planning your purchase.
Porcelain for Durability—If you have a space that faces heavy foot traffic, frequent moisture, or use by children and pets, porcelain is probably your best bet. Standing out with full solid color, exceptional water resistance, and a stronger surface than ceramic options, it allows you to make your wood look last far into the future.
Ceramic Wood Tile for Freedom—Where porcelain's durability makes it difficult to cut without a trained hand, ceramic is easily altered, making it an ideal choice for complicated and complex spaces. In addition, this material tends to be priced lower, lending itself well to expansive projects where you have a lot of ground to cover and don't want to sacrifice your desired aesthetic to do so.
The Definitive Flooring Destination
No matter which material you choose to work with, you'll get all the help you need to make the most of your shopping experience when you visit our showroom. From in-depth product comparisons to powerful warranties on our most valuable products, we are the name to know for top-notch floor coverings.
Explore our ceramic and porcelain wood tile selection today, and enjoy the timeless appeal of nature alongside the convenience of contemporary craftsmanship. With our help, the beautiful home foundation and comfortable buying process you've always wanted is only a visit away. Let us help you achieve your flooring dreams today.

Contact us now to get further information about our store and available wood look flooring options. We proudly serve Lexington Park, Beauvue, Saint Clements Bay, Breton Bay, and Oakley, Maryland, as well as the surrounding areas.