Laminate Flooring in Lexington Park, MD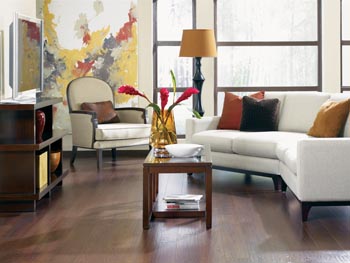 Do you admire the look of hardwood and tile but need options that work well with your budget? We have an easy, cost-effective solution. Laminate flooring in Lexington Park, MD, from Griffin's Flooring America is a popular flooring choice used in many homes throughout the region. Why? Because it replicates the stylish look of other more expensive flooring options for a fraction of the price. Laminate floors will give any room in your home or workplace an instant upgrade in appeal and value.
Our company offers a variety of inventory to choose from for laminate flooring installation. The many styles and colors we offer will ensure our customers get the floors that perfectly suit their needs in looks, performance, and price. The best part is that a laminate floor wears well and is extremely easy to care for. This floor material has a great reputation among consumers and industry professionals for its durability and sturdy construction. When you need a quick fix, all it takes is a mop or a sweep and your floors look as good as new.
Superior Laminate Flooring Installation
The quality of your installation is as important as the quality of the flooring you purchase. Much like any other renovation project, you want trained technicians who know what they're doing to take care of your laminate flooring installation. A new floor is an investment, so let us protect it by providing expedient service at affordable rates. Our qualified team has the knowledge, tools, and skills to efficiently complete the job within your budget—without cutting corners. We save you time, money, and ensure your laminate floor is securely in place so it lasts as long as possible.
Besides being easy to maintain, laminate flooring offers many unique advantages. In particular, it is highly resistant to scratches, dents, and fading, making it an ideal choice in areas of high traffic such as your foyer or living room. It also repels water and moisture, so it's perfect for kitchens, bathrooms, family rooms, or any room where a spill is more likely to occur.
Are you suffering from allergies or constant illness? Our floors don't absorb dust and other allergens, so they're both sanitary and free of harmful debris. In essence, you can't go wrong with a laminate floor. It's truly one of the most versatile flooring options on the market.
Instantly Adding Value
No matter the style or color of laminates you choose, rest assured it will instantly add value to your home. It easily goes with any style of home décor and design, from modern to classic. That's why more interior decorators are turning to us for assistance with their clientele. Our expert installers can work with any room in the home to create new levels of warmth and sophistication through your floor alone!
Another reason designers love high-quality laminate floors is because they seamlessly integrate into your existing space. We don't have to spend hours removing plywood, hardwood, or concrete. Our workers simply lay the new flooring over the top of what's already there and then snap it into place. No messy glue or dangerous, unsightly nails are necessary.
When you visit our flooring showroom, expect a stress-free, pleasant experience. We care about your unique laminate flooring requirements and work tirelessly to meet or exceed them. There are no hidden fees and consultations are free. You can ask as many questions as you like, so you should feel confident you're going to get exactly what you requested. Coupons are also available to help you save even more.
Contact us today for more information on laminated tile flooring. We proudly serve the communities of Lexington Park, California, Leonardtown, Breton Bay, and Oakley, Maryland.