Ceramic Tile in Lexington Park, MD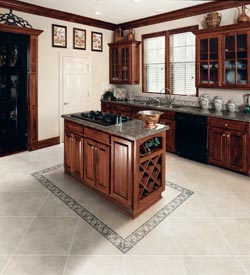 Need to find new ceramic tile flooring to complete a home remodeling project? Come to our local flooring store. We sell a wide assortment of top-quality products that are as stylish as they are practical. Whether you want a new ceramic tile floor for your kitchen or bathroom or wish to tile your entire house, our store is stocked with everything you need to transform any space. Not only do we provide the tile, we also offer professional ceramic tile flooring installation.
We offer our customers first-rate products to ensure that you enjoy your new flooring for years to come. That is why in our flooring showroom we sell the best brands of tile from trusted manufacturers. Brand names are the way manufacturers designate ceramic tile of quality, style, and durability. Choose from the following popular brand names:
SelectAFloor™
Star Values™
Bellisima Tile™
Design Distinctions™
Dal-Tile™
And more!

Floorcraft™
American Olean™
Hearth & Home™
HomeCraft™
Terra del Sol™
Professional Ceramic Tile Flooring Installation
In addition to selling exceptional flooring materials, we offer affordable installation services. Our team of skilled installers has extensive experience grouting and laying ceramic tile. This is a job that requires skilled professionals as any mistakes are obvious.
Plus, floor tile that is not installed correctly results in big expenses in the future. This is because the tile can move about, which leaves it vulnerable to damage. Rather than spending money to replace tile that has been improperly installed, rely on our professionals for ceramic tile flooring installation that lasts for many years.
Another step you can take in extending the life of your ceramic tile is sealing. We recommend having your floor tiles sealed right away with an industrial-grade sealant to prevent water absorption, scratches, and grout discoloration.
Flooring America is known for having powerful guarantees. This includes our Ultimate Confidence Guarantee, which assures customers that we back up our products and services with great warranties, such our Lifetime Installation Guarantee. This is our promise to you that if you should experience any issues with installation, let us know and we will make things right – at no cost to you.
Decorating with Ceramic Tile
Ceramic tile has been a popular decorating option for thousands of years. The refined appeal of this type of tile graces residential and commercial buildings. Tile offers so many decorating options.
You can choose tile in any number of colors, shapes, or sizes. Select the same color, shape, and size of tile for your flooring to provide an elegant backdrop for your home furnishings. Or choose ceramic tile in differing colors, shapes, and sizes to create a stunning visual focal point. Work with one of our design professionals to select tile that complements your decorating style.
Ceramic tile flooring is made from kiln-fired clay. This makes it tough and long-lasting and gives it strength to resist fire and frost, as well as scratches and stains. Tile also withstands water, which is why it is a must in wet rooms of your house, such as the basement, bathroom, and kitchen. However, we recommend that you do not limit tile to certain rooms for it is as stylish and practical in the living room, as it is in the dining room or bedroom.
Are you interested in selecting a specific color or pattern of tile? Contact us or visit us today to talk with a ceramic floor tile expert or visit our showroom to view our comprehensive selection. We proudly serve the communities of Lexington Park, California, Leonardtown, Beauvue, Saint Clements Bay, Breton Bay and Oakley, Maryland.